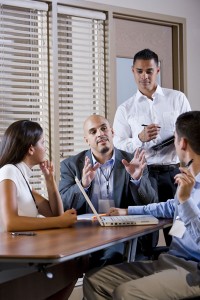 "I have been beyond pleased with Directions.  What they promise to provide (excellent short term counseling and referral, management consultation, training, critical incident counseling, and very detailed metrics) they deliver."   Ron Anderson, Executive Director, Kenl Inn
Directions EAP partners with our member companies to address a wide variety of workplace issues.  For over 25 years our professionals have assisted workgroups of all sizes and professions to help support and develop a company's greatest asset – its workforce.   Our consultants are owner/providers which keeps us one step closer to familiarity with the various cultural climates and unique dynamics of each of our companies.  We strive for close associations to better facilitate our mission – being the best employee assistance program around!  Whether it be a crisis situation or a chronic issue,  we are only a phone call away.  Among the workplace issues we are experienced and trained to deal with are:
Conflict Resolution
Many workgroups have challenges in the areas of employee cohesiveness and compatibility.  Directions will engage with the management team in an assessment of the issues involved – and work together to develop a plan to respond to the issues uncovered and work towards a solution.  This can be in the form of mediations, team building exercises, leadership development, personality inventories, or trainings.  Our experienced staff has many years of experience in all of these areas and has successfully addressed these conflictual situations to promote and support a better working environment. When referrals for more intense intervention is indicated, Directions can either tailor design a fee based intervention or assist you in finding helpful resources.
"Directions is also instrumental in the facilitation of department meetings."    Jill Denker, Executive Director of Human Resources and Physician Liaison, Lexington Regional Health Center
Team Building
Work groups are undergoing constant challenges in the areas of workload, personnel changes, organizational change, and diversity in the workforce.  Whether providing a Myers-Briggs assessment and training to help workgroups understand how personalities play out in the work setting, or conducting one of many experiential/tutorial learning sessions, our highly experienced staff strives to help workgroups develop the knowledge and skills to be the best teams they can be.  Our interactive and engaging team building trainings promote better teamwork, stimulate cooperation and collaboration, educate regarding better team communications and raise awareness of individual working styles.
Leadership Development/Coaching
Directions EAP offers one-on-one coaching and training modules in a variety of skill and awareness building areas.  Our goal is to equip new and experienced leaders to operate to their fullest potential.   Some of the skills we help leaders to develop include stress and time management, effective communication, goal setting, interpersonal effectiveness and managing change.  We work hard to help our companies develop their leaders.  Twice a year we also offer our Leadership Matters half-day seminars that address requested leadership skills topics such as Time Management for Leaders, How to Motivate Employees, Leadership Ethics, Leadership Accountability, Employee Wellness, and Stress Management for Leaders.
Crisis Management
Unfortunately, traumatic events do happen in the workplace.  These can include employee death, serious workplace injuries, robberies, workplace violence or particularly stressful workplace situations/challenges.  Our crisis consultants are trained and experienced in offering one-on-one or group interventions to help workgroups cope after these traumatic events.  We work with company leadership to develop a personalized plan to assess, counsel, educate and debrief employees at this difficult time.  Critical Incident Stress Debriefings customized to workgroup needs, Trauma Management education and one-on-one or group counseling support are all examples of ways Directions has provided employers/leaders with resources and assistance to help their employees receive tools for better emotional and psychological healing.  The employer benefits by not only caring for their employees' mental health and wellbeing, but also by minimizing interference in productivity by strengthening the recovery process for employees.
Any unexpected, traumatic or dramatic event at work, such as a serious accident, death of a coworker, downsizing or traumatic work event can deeply affect employees. Directions EAP will work with company leaders to
Identify employee needs
Respond with onsite support, if indicated
Assist in developing internal communications
Be available to employees for one on one crisis counseling intervention
"Directions EAP was able to see me on very short notice (same day) which was just what I needed."   Directions EAP Counseling Client
Seminars and Trainings
Directions offers a wide variety of seminars made available at the Directions EAP office or worksite. Workshops can be presented as regularly scheduled training sessions, as part of company's wellness program or during "Lunch and Learns". Many employers' EAP contracts include a certain number of free workshops or may have these priced separately. For more information on training click here.